The introduction to this exposition is "The Story of the Environment". In images and text the notion of environment, from distant past up to this day, is revealed.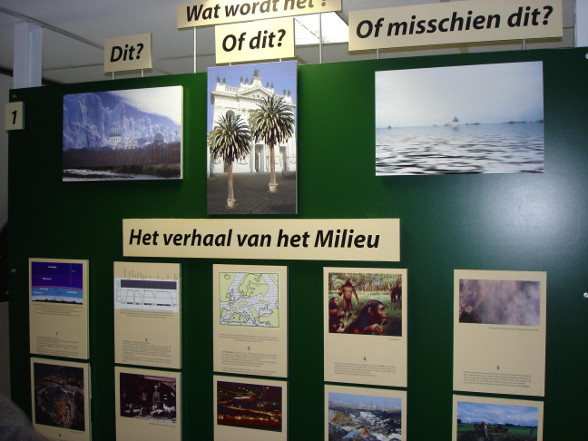 The topic "Climate" offers insights into aspects of our climate, and factors that may bring about permanent or temporary changes in weather and climate, e.g. sea level rising and the consequences of this phenomenon for the Netherlands.
The topic "Greenhouse Effest" offers a model where visitors may carry out their own measurements.
Waste and pollution are treated in "Soil Pollution" and "Waste Disposal and Processing".
Energy issues are divided in "Energy and Conservation", "Hydropower", "Electricity from Sunlight", "Wind Energy", "Hydrogen as a Fuel" and "Nuclear Energy". New technologies are also featured.
"Nature in the Warming Netherlands" shows the already visible effects of the gradual rise in temperature. In capturing films these are brought home to the visitor.
A number of technical facilities give the exposition an interactive character. On the roof of the building a solar panel, a windmill and en weather station are mounted. The measurements may be viewed at a display panel in the exposition. A questionnaire offers additional information about the weather